RELIGION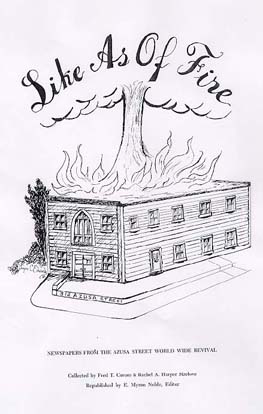 Like As Of Fire:
Newspapers From The Azusa Street World Wide Revival
Collected by
Fred T. Corum
and
Rachel A. Harper Sizelove

Republished by
E. Myron Noble, Editor, 1995

The editor of the paper was William J. Seymour, Bishop/Pastor of the Apostolic Faith Mission, 312 Azusa Street, Los Angeles, California.

The index has been prepared by the Assemblies of God Archives, and has an Author-Subject approach.


Bonnie Brae.org



To order this item complete and email the form on the Main Order Page.
The Silent Spokesman
Bishop Robert Clarence Lawson
by Alexander Stewart,and
Sherry Sherrod DuPree

"This collection of materials on Bishop R.C. Lawson and the Church of Our Lord Jesus Christ of the Apostolic Faith, Inc., is a significant contribution toward a better documentation of Pentecostal history, and thus a clear view of church history. The Silent Spokesman is required reading for any one who wants to understand the most important world-wide religious phenomenon of the twentieth century."



Richard Newman, W.E.B. DuBois Institute
Harvard University, Cambridge Mass.





To order this item complete and email the form on theMain Order Page.
Write the Vision and Make it Plain

by Alexander Stewart and Shilene Stewart

Souvenir Journal of the William Lee Bonner Cultural Center & Educational Complex
Columbia, South Carolina
August 1996
American Religion Image Library




To order these items, select a Form:

by US Mail
or by EMail

We accept American Express, Check or Money Orders.

EMail Message Form

-Top-